"
We are a team. Unlike other salons or shops, we do not double book appointments. We use the time to give our guests the best possible service we can provide. We remain grounded, and use each team member as a weapon in our arsenal of awesomeness.
Our Studio
An Edgy and Rustic Feel, with Chill and Soothing Vibes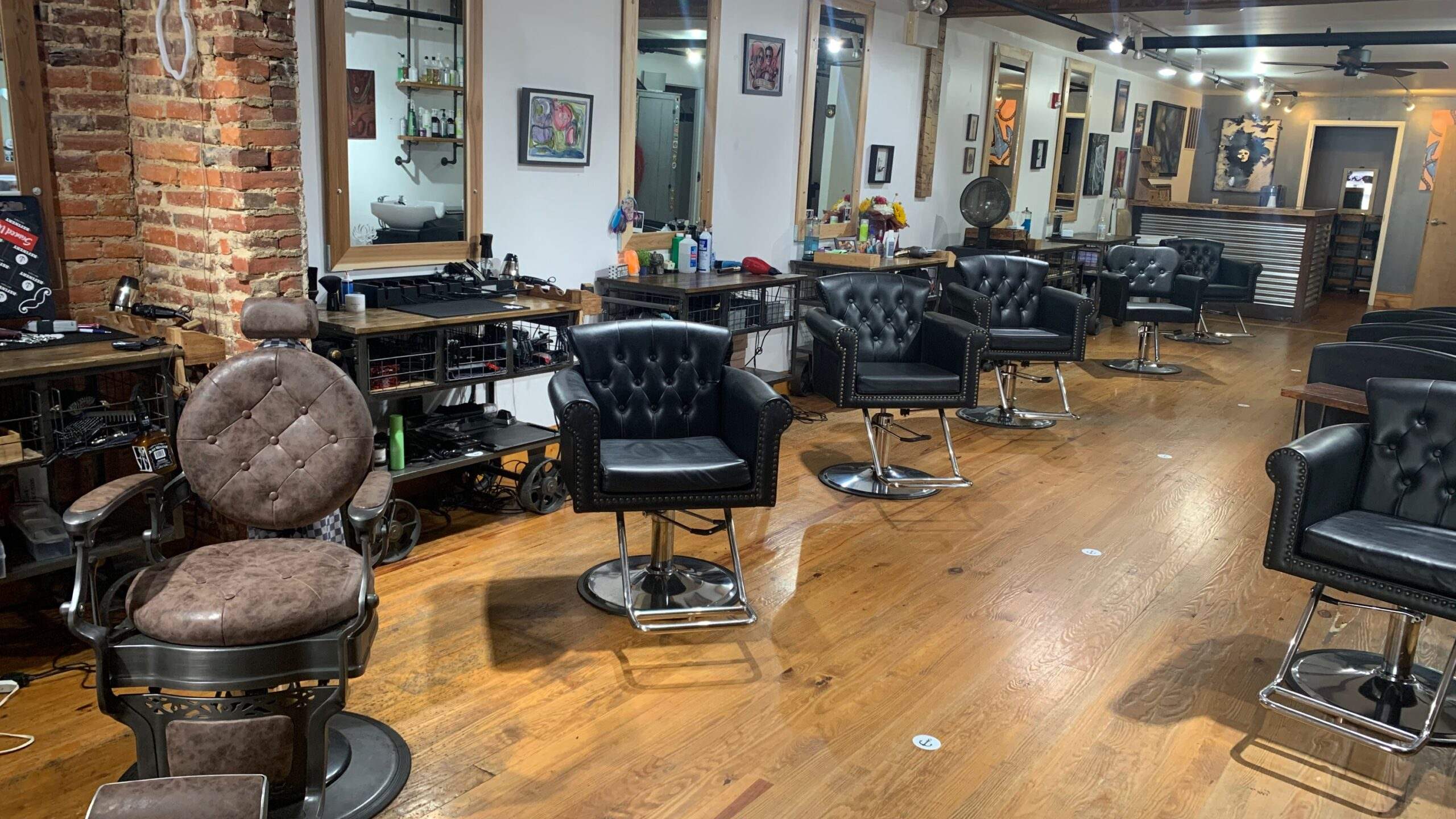 Our Services
We love what we do. We're dedicated to our craft. We strive to be different.
Women
Color (Root touch up, Single process color)
Lightening (Balayage, Highlights)
Please Note
Base price listed… prices vary by stylist. Keratin Treatments require consultation. Corrective color requires consultation. All prices subject to change for hair length & density, and time required. All color services include blowout.
Keratin Treatments Available
Price disclosed at consultation
Happy Clients
We Love Our Clients!
The Refinery Hair Studio is the ONLY PLACE I will go from this point forward. Not only can Meagan cut curly hair but she can combine elegance with edgy. From the moment I walked in the atmosphere was amazing, I was greeted with a glass or red wine and transported to Hair Nirvana.
Heidi Breslow
Best hair salon I've ever been to in my life. I actually enjoy getting my hair cut now. Excellent service, Bud is the best! If I ever had to move I would probably travel just to get my hair done here. You can't replace small business with good vibes, with a corporate chain company that more than likely doesn't care about anything other than money.
Katie Zdunski
Very cool place in a great location. Christian did an awesome job on my side shave! It was no big deal - like he did that kind of cut all the time. I was nervous trying a new place for a big change haircut, but I made the right choice!
Lisa Replogle
Dopest beats, chillest beers, freshest cuts! Great atmosphere and awesome staff. Actually look forward to getting my hair cut and my hair is thinning... says a lot!
Eric Lluna
If you're looking for the best place for a haircut or beard trim, this is the place to go! Friendly and professional staff, who are practiced in modern cutting edge style and classic traditional cuts. Unlike other salons they value their clients and DO NOT double book. They also serve you beer or coffee during your appointment.
Rhae Soleil
Bud has been styling my hair (balayage highlights and cut) for a few years now. We've tried a variety of cuts and I've loved every one of them! My favorite part is that the team works together and they consult with each other, constantly learning and enjoying what they do!
Carrie Hermany
Went for my first ever salon hair cut and Trisa was amazing! I told her I wanted it left long with layers and told her to do the rest. I absolutely love my hair, she took her time and it turned out better than I ever thought!! Love this place and the people that work here!!
Lauren Odorisio
Awesome staff, chill atmosphere, great music selection and they wine and dine you with some great refreshments! I've since moved 2 hours away but still travel to get my hair cut by Christian when I'm in town to see my parents. Christian and all the staff cater your needs and wants. I'd recommend them to anyone male or female!
Cody Michaels
Some times getting your hair cut is like walking into that crazy gym where everyone is in on a joke but you... Not today! I was greeted and made to feel comfortable as soon as I walked in, my stylist Trisa listened to me and with uncanny perception knew what I was looking for. I am happy with my haircut and pleased with my experience. I can't wait to go back!
Debbie Reichert
Amazing studio! I felt relaxed from the time I walked in, Megan did a wonderful job with my cut and I look forward to my color appointment in a few weeks; such a talented group with a great space and good vibe, I look forward to many more!
Kristine Ferrick Blakely
Love Trisa and all the time she puts in to making my curly mess manageable!
Suzanne Delaney Barnes
Easily the best experience I have had at any barber shop/hair studio in West Chester. The owner is an awesome guy and they really do cut your hair as if it was their own. I would HIGHLY recommend getting your hair cut here.
Jesse Gold
Tuesday - Friday

9:00 AM - 9:00 PM

Saturday

10:00 AM - 5:00 PM

Sunday

10:00 AM - 5:00 PM

Monday

Limited hours
Stop in and introduce yourself, we'd be glad to discuss your hair with you.
Out of respect to our stylists, clients, and their time, we require 48 hours notice for cancellation of your scheduled services. Clients cancelling with less than 48 hours of your scheduled appointment, their credit card on file will be charged 50% of all services reserved. We require this payment in order to continue further services with any team member of The Refinery Hair Studio. We appreciate your understanding and consideration for our time and the time of our clients.